Use GLASS-GARD with Alarms
When GLASS-GARD is used in conjunction with certain alarms, the alarm is triggered with the first impact in which the glass breaks yet access is still denied. Repeated attempts create more noise and take more time before access is gained. 
Since most smash and grabs take place in mere minutes the resultant time delay and noise factor is generally sufficient to scare off most would be thieves in favor of easier targets.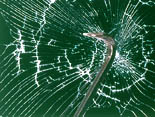 Protection During Disasters 
One of the major causes of injury is human to glass impact. GLASS-GARD safety film decreases and virtually eliminates injury of this type. 
Human to glass encompasses direct impacts such as falling into or walking through a pane of glass as well as flying glass due to explosions and natural catastrophes. 
GLASS-GARD is fast becoming the tool of choice for earthquake, tornado and hurricane preparedness.
Other Benefits of GLASS-GARD 
Other benefits of GLASS-GARD include fade reduction, and protection from UV rays. GLASS-GARD is also available in tinted and reflective varieties adding to the list of benefits; glare reduction, additional comfort, potential energy savings, and additional fade reduction.