decorative window film.
add privacy or style to any window in your home or office - block light or simply block vision.

---
Specialty an Graphic DECO Films are designed for a variety of special applications. Effects include mimicking sandblasted glass and etched glass, blocking out light and visibility, adding privacy and multiple transparent graphic colours.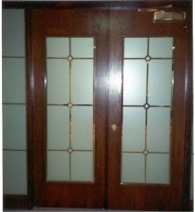 Matte Films
Matte films include opaque (or white frosted), Bronze and Grey Matte Films. These films mimic sandblasted glass and are a great alternate to the usual costly and time consuming elegance of etched glass. These films let in a great deal of light yet hinder visibility. Matte films can be used to update new sales promotions, new logos or to just change the interior design without the high cost of replacing glass.
Block Out Films
Block out films include SUN-GARD's whiteout and blackout films which offer total privacy, providing an economical alternative to building new walls to replace windows. Silver Matte adds provides total privacy and adds heat rejection to it's list of benefits.
Coloured Films
Graphic colour films come in a variety of thirteen different colours and are a great alternative to vinyl. These transparent films allow for immaculate signage all the while allowing visibility outward, during the day time.